Authors
A-E | F-J | K-M | N-R | S-Z | Complete List
« Prev Author (John James) | Next Author (Tom Jenks) »
Sarah James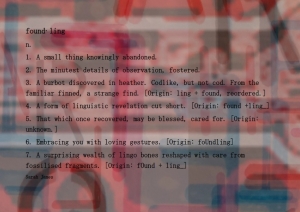 found ling by Sarah James
Biography
Sarah James/S.A. Leavesley is an award-winning poet, fiction writer, journalist and photographer.
Overton Poetry Prize winner 2015, she is author of four poetry collections, three poetry pamphlets, a touring poetry-play and two novellas.
Her poetry has won or been shortlisted for many prizes, with individual poems published by the Financial Times, the Guardian, The Forward Book of Poetry 2016, on Worcestershire buses and in the Blackpool Illuminations.
Sarah's other work includes editing, mentoring, facilitating workshops, commissions, residencies and festival readings. Her poetry has featured on the BBC, in poetryfilms and on radio.
She is also a published essay and CNF writer, and longlisted for the memoir prize in the New Welsh Writing Awards 2017.

Her website is at www.sarah-james.co.uk and she runs V. Press, a poetry and flash imprint shortlisted in The Michael Marks Publishers' Award 2017 (http://vpresspoetry.blogspot.co.uk).
Recordings
'Snatches of the Rivers and Moor'

from plenty-fish (Nine Arches Press, 2015), second prize in the Hope Bourne Poetry Competition 2012 and first published in the Exmoor Review

'Looking Back In Fragments'

from plenty-fish (Nine Arches Press, 2015)

'repetitive Transcranial Magnetic Stimulation rTMS'

from The Magnetic Diaries (Knives, Forks and Spoons Press, 2015)

'Urban Myths'

from The Magnetic Diaries (poetry-play version)

'foundling'

first published on The Lost & Found Museum, August 2015

'Road Tripping /Remixing Life's Playlist/In The Gaps'

from Yesterday's Music Today (anthology, Knives, Forks and Spoons Press, 2015)

'Home-Remedy for a Broken Heart'

from Be[yond] (Knives, Forks and Spoons Press, 2013), first published on Ink, Sweat and Tears

'd'or - of/from gold echoes'

from Be[yond] (Knives, Forks and Spoons Press, 2013)

Use the player to listen to 'd'or - of/from gold echoes'

Player will appear here

Download the podcast of 'd'or - of/from gold echoes'

Bibliography

Reviews

Review and endorsements for Sarah's various books can be found under the individual titles on her website. Her poetry titles are listed at http://www.sarah-james.co.uk/?page_id=86, then click on the link to the book.

A-E | F-J | K-M | N-R | S-Z | Complete List