Authors
A-E | F-J | K-M | N-R | S-Z | Complete List
« Prev Author (Joe Luna) | Next Author (Peter Manson) »
Barry MacSweeney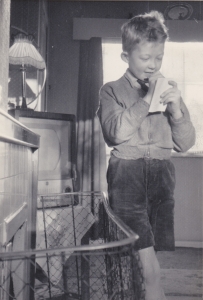 Biography
Born Walker, Newcastle upon Tyne.
The son of a trainee RAF wireless operator from the East End of London, stationed, temporarily, at Whitley Bay; and a local Geordie lass. They met in 1945, whilst he was on weekend leave with a pal in Newcastle, and she was a volunteer, serving hot drinks to servicemen in uniform, in the City centre. He was due to fly out to the Far East but then the Americans dropped the Atom Bomb on Japan and they were able to marry.
Thus, between them, J Robert Oppenheimer and Harry S Truman, inadvertantly created the circumstances which gave rise to the procreation, and birth on 17th July 1948, of Barry MacSweeney.
Such is the way of these things.
He grew up in the suburb of Denton Burn, a mix of thirties semis and post-war council housing, at the other end of Newcastle.
[Bizarrely, someone has actually written about how dull Denton Burn is. See page 308 of Stuart Maconie's excellent study of Northern life, Pies and Prejudice.]
Graduating from Broadwood Junior and Infants' School, Barry attended Rutherford Grammar School for the next five years, in the bit posher suburb of Fenham, intent only upon mastering the English Language and disrupting Physics lessons.
The Newcastle Evening Chronicle took him on as trainee reporter despite, or, perhaps because of, the fact that he'd spent his Maths and History exams writing poetry.
[It's the old thing about never let the facts get in the way of a good story.]
By the age of sixteen he was addicted to Newcastle United FC.
He studied Journalism at Harlow Technical College.
And then he made a slightly quirky, if extended, newsgathering perambulation around some of the great towns and cities of England.
Sidcup, Kent; Folkestone; Bradford [where he witnessed and covered the Bradford City Football Club fire tragedy]; Darlington and latterly, South Shields.
Along the way, he insisted on writing poetry.
And back again, finally, to Denton Burn.
Perhaps he missed the boredom.
He died in 2000, a Newcastle United season ticket holder. His final collection is due to be published by Bloodaxe in 2016.
(Paul McSweeney)
Notes
Recordings have been provided to the Archive by Barry's brother Paul McSweeney. Deep thanks must go to the following people for their generous assistance with the collection these recordings: David Caddy; Tom Chivers; Allen Fisher; Jackie Litherland; Chris McCabe; Emma McGordon; Jeremy Prynne; Peter Riley; Colin Still and the staff of the Newcastle University School of English.
If anyone is aware of any other audio material made by Barry, or about him, please contact: paul-mcsweeney@hotmail.co.uk.
Recordings
Black Torch

"Black Torch" was a reading held on the 26th March 1981, probably at the University of Warwick. This recording and the "Out of Dissent" launch recording were digitised by the University of Warwick Library, as part of the Clive Bush Audio Poetry Collection.

Reading at the Out of Dissent launch

"Out of Dissent" was a book launch by Clive Bush at which Barry was guest reader, at Subvoicive held on 19th Sept, 1997. Barry read in the second half.

This recording and the "Black Torch" recording were digitised by the University of Warwick Library, as part of the Clive Bush Audio Poetry Collection.

Barry MacSweeney on the Bradford City stadium fire

Interview with Barry MacSweeney and others on 'Stop Press', BBC Radio 4, about the Bradford City stadium fire in 1985, which MacSweeney reported on for the Bradford Telegraph and Argus.

Barry MacSweeney reading with Tom Pickard

At the Polytechnic of Central London Poetry Conference, May 1974. Recording provided by The Poetry Library Collection, Southbank Centre, London.

Reading at Battersea Arts Centre on 22 May 1988

The quality of this recording is quite poor; if anyone feels they could improve it, the Archive would be grateful for offers of assistance.

Demons Salute the Forever Lost Parliament of Barry and Jacqueline

This recording is a message left by Barry MacSweeney on the answerphone of Peter Manson in 1995. It has been transferred from an audio cassette and is posted with the permission of Peter Manson and Paul McSweeney.

Up for Air with Rob Holloway

This hour-long programme was first broadcast on Resonance 104.4 FM.

Reading at Dulwich College, London, 1999

Reading at Subvoicive

This reading, hosted by Lawrence Upton, took place at the Three Cups pub in Holborn, London, on 26th March 1996. Peter Manson read along with Barry MacSweeney, each poet performing two 20-minute sets. Recorded by Clive Bush.

Introduction to Subvoicive reading by Lawrence Upton

Recording quality is not very good but this introduction is provided for context.

Bibliography

Coming soon:

Desire Lines presents the reader with over 300 pages of Barry MacSweeney in all of his guises. As a poet of experiment and tradition; of personal drama and public scandal; of early fame, journalism, and politics; a poet of the city and the river, the hills and the coast. From his early bestseller The Boy from the Green Cabaret Tells of His Mother (1968) through the ambitious Black Torch (1978), and to the tender unpublished 'Soft Hail' (1988), and his dazzling 'collaboration' with Apollinaire, this new Unselected Poems restores to view the full achievement of MacSweeney's writing life. Combining long out-of-print sequences with previously unprinted archival material, Desire Lines should cement MacSweeney's position as a major British poet of the 20th Century. The book includes an introduction by the editor, Luke Roberts, and extensive notes on the poems.

A-E | F-J | K-M | N-R | S-Z | Complete List