Authors
A-E | F-J | K-M | N-R | S-Z | Complete List
« Prev Author (Richard Barrett) | Next Author (David Berridge) »
Caroline Bergvall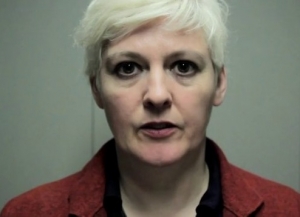 Biography
Caroline Bergvall is a writer and artist of French-Norwegian background who works across artforms, media and languages. Her artistic and critical investigations explore performative language use and fluctuating forms of cultural belonging.
Projects alternate between textual pieces and books, audioworks, visual textworks, net-based pieces, drawings, live performances, books, and sited installations, often in collaboration, both in Europe, Scandinavia and in North America where she presents her work and readings extensively.

Her books include Meddle English: New and Selected Texts (Nightboat Books, NY 2011-2nd print. 2013), being translated into French (Les Presses du Réel); a DVD of solo works: GH<>ST PIECES: 4 language-based installations (John Hansard Gallery Publs. Autumn 2012); Middling English (John Hansard Gallery catalogue, Southampton, 2011), Fig (2005), Goan Atom (2001), and Eclat. (1996/ubu editions redesign, 2006). DRIFT (Nightboat Books, 2014) was initially commissioned as a live performance (voice / percussion/ electronic text) by Grü/Transtheatre (Geneva, 2012).

She has participated in group and solo shows at the South Bank Centre (London, April-June'13). Tate Modern (London, July-September'13), The Powerplant Gallery (Toronto, June-August'13), Vita Kuben/Norrlandsoperan (November-December '13, Sweden), and has exhibited/performed at: MOMA (NY), DIA Arts Foundation (NY), MCA (Denver), Fundacio Tapiès (Barcelona), Arnolfini Gallery (Bristol), The Serpentine Gallery (London), MCA (Antwerp), MACBA (Barcelona), Wood Street Galleries (Pittsburgh), Godsbanen (Aarhus), and ao.

She was Director of Performance Writing, Dartington College of Arts (1995-2000), co-Chair MFA in Writing, Bard College (NY, 2005-2007), Honorary Fellow, Birkbeck College, London (2000–2003, and a recent faculty guest at Naropa's School of Disembodied Poetics (2010/2012).  She was awarded an Arts and Humanities Research Council Fellow in the Creative and Performing Arts (2007-2010). In 2012-13 she was the Judith E. Wilson Fellow in Poetry and Drama (University of Cambridge).
Recordings
Contemporary Women's Experimental Poetry festival, October 2006
The following recordings were made at the Contemporary Women's Experimental Poetry festival, held 6-8 October 2006 in Cambridge, UK and organised by Emily Critchley with help from Catherine Brown.
8 Figs
"8 Figs" are featured in the collection FIG (Salt, 2005). The 8 pieces were first published as a chapbook designed with Marit Müenzberg and published by Rod Mengham/Equipage. The chapbook format allows the piece to be structured according to a strict formal plan: 8 pieces of (16 X 2) 32 lines, punctuated by 16 visual ampersands, the whole organised into 48 pages.
Shorter Chaucer Tales
"Shorter Chaucer Tales" were launched as audio recitations on PennSound (Nov, 2006). These four pieces use the rich and entertaining setting of Chaucer's medieval pilgrimage of The Canterbury Tales for pointed or humourous commentaries on aspects of today's corruptions, pleasures and blindspots. The texts are written in a mix of languages and feast on a weird and ill-assorted Euro-lingo: contemporary English co-exists with French, Middle English, some lost Latin, some altogether untraceable words, while direct quotes from Chaucer interrupt the BBC and other sources.
The text of "The Summer Tale" has been published online by Jacket #31.
Video
Bibliography
Books
    
CD
VIA (poems 1994-2004) (Carcanet Press/Optic Nerve/University of Birkbeck)
Reviews
"Love and grammar" by Piers Hugill, online Jacket #31
"Bergvall, a London-based poet who was raised French and Norwegian, is, along with Cecilia Vicuña, one of the most influential experimental spoken-word artists internationally. Her work heightens the semiotic coincidences and cross-cultural connections that multilingualism creates, as well as the gaps and absences it sometimes precipitates." --Publishers Weekly, Jan 2006.
"Caroline Bergvall's texts offer themselves as modes of 'performance writing', working both as residues of performance poetics and as scripts for performative interpretation. This generates ambiguities for readers more used to studying texts in order to establish an ideal or finalised close reading." --Drew Milne, Jacket, 2001.
"Bergvall was pivotal to the theorisation of the 'intra disciplinarity' of a body of emerging 'textual work' which needed to be read 'through and beyond the literary'. This work was informed by a variety of broad and overlapping aesthetic and intellectual traditions: feminist poetics, modernist experimentalism, performance art." -- Nicky Marsh, 2004.
"Bergvall's work is about the inscription of language on the body and in that sense touches the pulse of ecriture feminine. It blurs the boundaries of physical, sexual, and translative work, deriving as so much of this work does, from a bilingual French/English aesthetic. But what I admire about Bergvall's work is its absolute originality, its structural articulations." --Sina Queyras, 2005.
"Bergvall's hybrid work -- it is composed for live and digital performance, installation, video, as well as book form -- derives from post-punk music and sound poetry as well as from literary movements like Oulipo. Her sonic, verbal, and rhetorical devices are extremely sophisticated, encompassing Duchampian pun, phonemic bilingual (French-English) transfer, paragram, ideogram, allusion, and found text. In their complex assemblages, these function to explore such areas as our conceptual approaches to female (and feminine) representation as well as the power structures within which these sexualities must function. The doll, the bride, the daughter, the mesh: these participate in any number of games at once sexual and verbal." --Marjorie Perloff, Jacket, 2003.
A-E | F-J | K-M | N-R | S-Z | Complete List
« Prev Author (Richard Barrett) | Next Author (David Berridge) »