Authors
A-E | F-J | K-M | N-R | S-Z | Complete List
« Prev Author (Sarah Crewe) | Next Author (Fiona Curran) »
Emily Critchley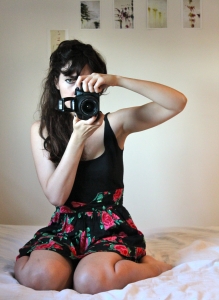 Biography
Emily Critchley read a PhD at the University of Cambridge in contemporary, American women's experimental writing and philosophy, where she was the recipient of the John Kinsella & Tracy Ryan Poetry Prize in 2004. She now teaches English & Creative Writing at the University of Greenwich. Her published poetry includes: Hopeful for Love are th' Impoverish'd of Faith (Torque Press, 2010), When I Say I Believe Women (Bad Press, 2006) & Love / All That / & OK: Selected Writing (Penned in the Margins, 2011).
Recordings
Bibliography
Books and Pamphlets
The Dirt Glitch Land Alter Affair (Cambridge: Arehouse Press, 2004)
How to make Millions (Cambridge: Arehouse press, 2005)
I just want you to know that we can still be friends (intercapillaryspace, 2005)
When I say I believe women (London: badpress 2006)
Of all the Surpises (Switzerland: Dusie, 2007)
Who handles one over the backlash (Norfolk: Oystercatcher Press, 2008)
Hopeful for Love Are Th'Impoverish'd of Faith (Torque Press, March 2010)
Love / All That / & OK (Penned in the Margins Press, 2011)
Magazines, Journals and Anthologies
Emily's work appears in: Eighteens (The Knives Forks & Spoons Press,
2011), Infinite Difference: Other Poetries by UK Women Poets (Shearsman
Press, March 2010), Cambridge Literary Review 1 & 3, Damn the Caesars
(July 2010), Black Box Manifold 1:5, e (July 2010), argotistonline,
onedit #13 & #16, Openned Journal, Delirious Hem (Dec, 2009), Default 5
(2008), Pilot series, 2 (2007), The Paper 9 (September 2007), How2Journal
3.3 & 2.4, dusie 3, Skald 23 (2006), in blossoms atop reeds it flares, Plantarachy #2, & Quid 15.


Sample Text
Reviews
"I'm amazed by When I say I believe women.... It feels so new and necessary." (Lisa Robertson)
"There is an urgency in Emily Critchley's poetry that puts me in way of Rich and Grahn among many other poetic foremothers' which is unique and unafraid, with a serious cutting edge, in a time of great ineptitude, which challenges to be tempered." (Susana Gardner)
A-E | F-J | K-M | N-R | S-Z | Complete List