Authors
A-E | F-J | K-M | N-R | S-Z | Complete List
« Prev Author (David Kennedy) | Next Author (Michael Kindellan) »
Laura Kilbride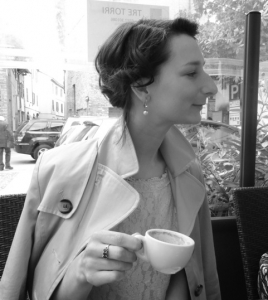 Biography
Laura Kilbride grew up in the North-East of England and is in the final year of doctoral study at the University of Cambridge, completing a thesis on the poetry of A.C. Swinburne. With Rosa van Hensbergen she co-edits the Paper Nautilus Magazine (thepapernautilus.co.uk), now in its fourth issue. Her poems have appeared in the Cambridge Literary Review, Hi Zero!, and Dear World & Everyone In It (Bloodaxe, 2013) Her first pamphlet Errata was published by tipped press in 2011 (tippedpress.com). A long poem, In The Square, is forthcoming from Punch press.
Recordings
QMUL recording studio
Recorded by Alastair Roberts on Friday 14 February 2014 at the recording studio at Queen Mary University of London.
A-E | F-J | K-M | N-R | S-Z | Complete List
« Prev Author (David Kennedy) | Next Author (Michael Kindellan) »