Authors
A-E | F-J | K-M | N-R | S-Z | Complete List
« Prev Author (Harriet Tarlo) | Next Author (Michael Tencer) »
Fiona Templeton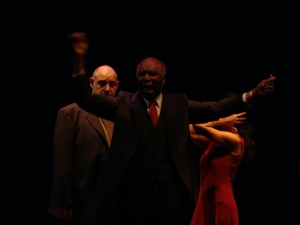 Biography
Fiona Templeton is a playwright, poet and director who works internationally, specializing in site-specific presentations of adventurous new work, often on an epic scale.  She is artistic director and founder of New York based performance group, The Relationship.  Her 1988 piece, YOU-The City, pioneered the genre of the theatre journey, and was re-created in 8 European cities.  Since then she has received commissions in many cities worldwide, such as JIJ-De Stad, a key project of Rotterdam 2001 European Cultural Capital, and L'Ile, commissioned for the opening of Lille European Cultural Capital 2004, which covered 50 locations across the city, recreating the dreams of its inhabitants.  
She received the 2003 theatre award from the Foundation for Contemporary Performance Arts, 3 fellowships from New York Foundation for the Arts in both performance and playwriting, and 2 from the National Endowment for the Arts in both poetry and visual arts new genres.  She was Senior Writer Fellow at Cambridge University 96-7. 
She co-founded London's Theatre of Mistakes in the 70s; the company's work had a seminal influence on European performance.  They performed internationally, & published Elements of Performance Art.  She is the US translator of plays by recent Nobel awardee Elfriede Jelinek; and directed her Sickness or Modern Women.
Since the late 90s she developed The Medead, a 6-part epic, with funding from the MAP Fund, Mabou Mines/Suite, Theatre Communications Group / International Theatre Institute, Lower Manhattan Cultural Council, the Arts & Humanities Research Board, and North West Arts.  Parts 4-6 were produced at Tramway, Glasgow, Scotland in December 2005.  In 2006 Part 1 was produced at 15 Nassau in New York, and Parts 1-3 at Fort Jay on Governor's Island, New York Harbor.
With her company The Relationship, recent work includes a staging of Flow by the late San Francisco poet Leslie Scalapino (at Poets' House & Dixon Place, NYC, and at ODC San Francisco); Going with Coming, a play containing a game (at Chasahama, Dixon Place and Danspace for the Movement Research Festival, NYC, and at the Puerto Rico International Theater Festival); and 365 Days/365 Plays by Suzan Lori Parks, at over 14 sites in the New York triborough area.  Works in progress include Michael Gottlieb's The Dust for the 10th anniversary of 9/11; John Jesurun's new work Stopped Bridge of Dreams; Templeton's new work The Blue, and a concert version of The Medead in collaboration with composer/vocalist Samita Sinha.  Cells of Release, her installation throughout a cell block in Philadelphia's former State Penitentiary, 1995, was a collaboration with Amnesty International.  Recognition, with her late collaborator Michael Ratomski, at the Kitchen 1996 & ICA, London, concerned the representation and understanding of death.  She performed live in dialogue with Ratomski on video.
Her early solo Thought/Death showed in East Village New York (04-5) at the New Museum.  That period included large-scale site-specific work (Defense at Creative Time's Art on The Beach, 1982); & collaborations including Julian Maynard Smith, Anna Kohler, Steve Buscemi and Elliott Sharp.
Notes
Recordings
Recorded in Islington, north London, on 27 January 2011
Medea in Athens