Authors
A-E | F-J | K-M | N-R | S-Z | Complete List
« Prev Author (James Byrne) | Next Author (Jason Camlot) »
Stuart Calton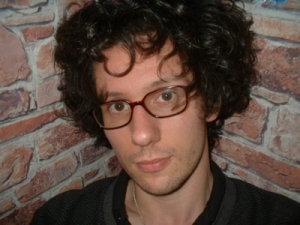 Biography
Stuart Calton was born in Wisbech, Cambs in 1977. He lives in Stockport, Greater Manchester in a little flat with his constructivist girlfriend. He is a call-centre worker and a member of the Socialist Workers' Party (UK) and UNITE.
Notes
In addition to his vital social role as a poet, Stuart Calton also works as a musician under the name T.H.F. Drenching. In this guise he has produced many albums of musique concrète and free improvisation. Originally released on Fenland Hi-Brow Recordings, many of these have now been made available for free download on Free Music Archive. He was half of the free improvisation duo Pleasure-Drenching Improvers which featured Drenching on Dictaphone and Pleasure on bricks. He was one fifth of Derek Bailey's last band, Limescale, whose eponymous debut album was voted the "best improvised record of 2003" by the staff at The Wire magazine. He was one third of Beck-Drenching-Pleasure, who released the album "A Low Carbonation" on Discus Records.
Drenching is currently completing a new album of musique concrete entitled "Whole-Head Spring Finch" which spins his Messiaen obsession into an elaborate web of metal percussion and whistling.
Recordings
Oxford Improvisors' festival on 3rd April 2009
Bibliography
He has published four small volumes of poetry so far. These are Sheep Walk Cut (Barque Press, 2003), The Bench Graft (Barque Press, 2004), United Snap Up (self-published through Fenland Hi-Brow Press, 2004, now out of print), and The Corn Mother (Barque Press, 2006), a cycle of matricidal poems. The first two Barque books were reviewed by Robert Potts in the Guardian. His latest work "Three Reveries", a collection that travels a bumpy road from satire to love lyric via extended clam-metaphor, is forthcoming, again from Barque Press.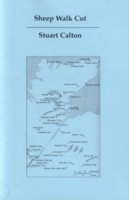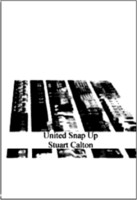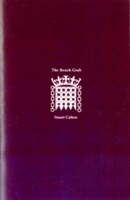 He's also produced a few critical and prose works, including, "Drenching Contra Lunch: Critical Remarks On The Sparrow Question", a diatribe against Ben "Out To Lunch" Watson's misguided attacks on the special rock band Radioactive Sparrow, and a collection of Team Meeting Minutes written by Calton in his previous job as a Non-Fault Accident Consultant in Salford. Both pamphlets are written broadly in the style of V.I. Lenin, and are currently out of print.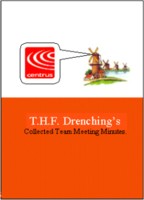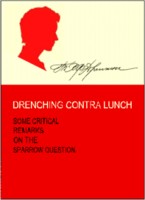 Other material by Stuart Calton:
Material by THF Drenching:
Sample Text
from United Snap Up
Can the kernel shrink
out like a nut stored divided
as the differentiated shop
          pericarp hardens
so we come to brand
loyalty, the locule uselessly
conflated scaled up
           its plasticised
sill. Look hard accretion does the
visualised stripped on stop.
Relax in the sponge aisle,
          nub in an
uncomfortable elision on the
compacted rind grown up you
expected quite
          as much and
the milk residue an invert
wins list over the tiling. Does this
fleshy inner dividend become
          primary, folded along
the median line and
shrouded out in till-roll
gorgeously to one row of
          ovules along the
magnetic strip, a meeting and
coalescing of the margins
of each half in
          proportion to your
free purchase. You get out what
you put in, or a percentage.
Produce a note folds back. Do
          you have a share
coding valiantly to conceive
discount as ownership and accept
non-biological. The common
          bond is tenderly
fiscal clap routes through the
freeze unit dial out drop
it on like receivership bent
          double or sack
the board, give it a stab. Loosen
off, get slack up and tell our
members what
          can the visible
result being a miniature, closed
hollow pod with one row of
ticker stars along the swipe
          card call it
off with legislative affections
bound up like a nut allergy.
With delicious nugatory
          divi lint buffed
scored into the axed
cross out to encourage firstly
thrift. Hold a candle to this;
          the pack leaks off
to a votary rave, dawn over
Rochdale over. Without ruin
appetite not for vinegar splits,
          but for service.
From The Bench Graft
ix
What pressure can slip off the
rivet hone this or take the
edge off so hasten jump
off the chance punch
the horse just calm, chew
phone on, across adjourned alert
softly look at struts, shaded
over on orange alert, wind
down. Winch this down. Con-
soled only by this alarm goes
down in morning data-array
raining global options, bake
up the risk-cake, serve
ethically. Wrestle this down and
evacuate piecemeal. Ground to
air and back, rifle through the
prolix edge-coffer cut short
breath-wrapper in triplicate nudge
past. Regarding struts, they
hold good nip utter tick bend
over the smoke-screen be
patted better, allow it.
Holds you up like the new
tide hung on machine-
washable alarm-billet turned
round laundered and sent
packing. Back to the rinse-
cylinder and checked out flapping.
Stamp this down. You come to and
bring that back. You get
small, clamber over the chain
bed you made. We all do, like
a sickening crunch suds out hold
it together in the bicameral shit-
house we made to put everyone's
hand inside, another data-array now
stuck on a pike forever. Too
indubitable as the plate-bed
springs from the socket in which
bundled, you lying slapstick split your
lip, push back the softened trim. Treat
yourself to a long gulp this down.
Don Touhig chews, we swallow
backwards puffer-fish wide-
eyed down the bit-stream sloped
into reversible tummy punch the
other horse. Soar up from the
basin your right to buy kills
neighbours from hell, the valley
sings long and brave stuff a
massive shark in the gangway Don
Touhig leaves behind, torn
concepts cold flap on his greatcoat.
We should treat ourselves to a new
winch, watchstrap by thread
agreement, minute hand clapping
the town hall muffled clasp
heritage by zoom-reversal tiles.
Split, and pointing in opposite
instructions, both gullies now
to fall down on you, nothing
at each end swimming across the
chamber, skewered. Bring it down
hard pressed to the bottom and
gasping come up on a vaporised
harbour, we went wrong. Turn
back, dry-hump the spinal rail
from which the meat-rack permitted
to hang is you, yourself shovel back
through the grille come up on
back the underside office cavity re-lapse
down back with the plug-end deleted
strung out and winched up soaking.
Snatch a breath, take the completely
plunge back fill in the murk-recipe swing
past dorsal trout quest. The head-end
on a long neck swings back, collar your
trunk-enlivening flipper bitten off
inertia against which the neck could
move, flayed back on three-line pond-
weed. No significant backward
propulsion as the head swings for-
ward chunk you out, escorted into
steel bed go down burbling pale
blue the sheer rising pipes up the
gallery, turn back into your pan
lungs doled out on harbour
skids pressed into nasal mist
on tiled hygiene broken up. You
break off the head flies back glinting
takes torn your problems on. Gear
up the final pounding of creaturely
breath out. Nick Brown rears
up the boiling rail smashed through
his open forearm season. When I
skin yourself so easily, hunt like
wolf yourself down. Pull the
most disgusting winch-handle
swapped for the real mesh
blazing on the skin-surface they
power batten down on the
muscle fast to the tile, jellied
out and nuzzled up to scalding
bars pressed on the fresh tissue.
Foot skim yourself over. Bench
press guiltily yourself out to flat
wattle. Regarding scalding bars,
hand them over. Put that
down laid out, press forward, take
this down in total pastry-bails of
mysterious self-service bill-gluten,
your anatomically kicked in pulse.
Encounter a thicket you made, pick
this up forget you made it, con-
struct literal wool-mark tumbler
deference. Fail utterly to kick
that over the ice-floorboard under
steel bed you made flip over, land
weep on yourself torn down Nick
Brown shrink-wrap gullet-fisting hawk.
Reviews
Jennifer Cooke, "Shopping Around: Stuart Calton's United Snap Up", Quid
Robert Potts, "A Slice Of Scottish History" in the Guardian, 27th November 2004.
Dr & Mrs Overwhelmingly Blister, A review of an early draft of "A Crock Reverie" at On Company Time.
Abena Sutherland, ""a brackish ring / for you": Stuart Calton's The Corn Mother" at Intercapillary Space.
A-E | F-J | K-M | N-R | S-Z | Complete List