Authors
« Prev Author (Geraldine Monk) | Next Author (Tim Morris) »
Marianne Morris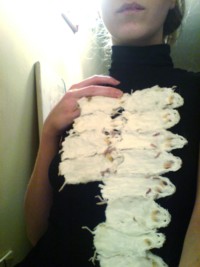 Biography
Marianne Morris founded Bad Press in 2002. Her published poetry includes: Commitment (Critical Documents, 2011), Tutu Muse (Fly By Night Press, 2008); and A New Book From Barque Press, Which They Will Probably Not Print (Barque Press, 2006).
Notes
Recordings
Contemporary Experimental Women's Poetry Festival, 2006
The following recording was made at the Contemporary Experimental Women's Poetry festival, held 6-8 October 2006 in Cambridge, UK and organised by Emily Critchley with help from Catherine Brown.
Stamford Hill, North London, 2005
I was trying to create poems that would be entertaining, believable and engaging for a person sitting in the audience at a reading. Over-the-top and intense. I was sick of going to poetry readings where you wanted to claw your way out through the walls with your fingernails. The following readings were made at a time before I had fully honed this impulse; the Cambridge Conference readings above were made after.
The following recordings were made at a house in Stamford Hill, north London in October 2005.