Authors
A-E | F-J | K-M | N-R | S-Z | Complete List
« Prev Author (Lisa Samuels) | Next Author (Karen Sandhu) »
Kaia Sand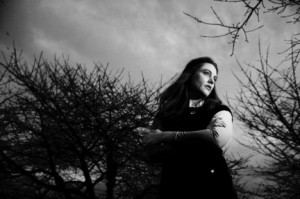 Biography
Born in Alaska and raised in Oregon, Kaia Sand has been involved with poetry communities in Washington DC, Southern Maryland, and Portland, Oregon where she now lives and co-edits the Tangent Press. The author of interval and several chapbooks, Sand recently completed a manuscript, why this body decided to be left-handed, and she is now working on a project for Tinfish Press investigating political histories of geographies local to the Pacific Northwest of the United States. She is interested in poetry lodged outside the book--public space projects, radio, etc--and has co-authored a book with Jules Boykoff on this subject.
Recordings
Contemporary Experimental Women's Poetry Festival, 2006
The following recording was made at the Contemporary Women's Experimental Poetry festival, held 6-8 October 2006 in Cambridge, UK and organised by Emily Critchley with help from Catherine Brown. Sand is reading from why this body decided to be left-handed
why this body decided to be left-handed
Bibliography
Books
interval (Edge Books 2004)
Landscapes of Dissent: Guerrilla Poetry and Public Space (co-authored with Jules Boykoff) (forthcoming with Palm Press)
Chapbooks
Interviews & conversations (online)
BANJO (hosted by CA Conrad): Poets Talking (Carol Mirakove & Kaia Sand)
Recordings
sound interview and reading on Cross-Cultural Poetics, interviewed by Leonard Schwartz (KAOS-FM at The Evergreen State College in Olympia, Washington.)
Walla Walla Poetry Party 2005 DVD
Collaborative projects
Matthew Sargent is composing "Riverbed Echo" for chamber choir, using Kaia Sand's text (commissioned by the Alba Music Festival (Italy) and the St. Mary's College Chamber Singers, to be premiered on their Italy Tour in 2008)
Artist Ruth Lingen used Sand's text for her limited-edition run of small books, 2004.
Sample Text
my sweet
rogue nation
closed lipped
promise kiss
me this way
misaligned
choices make
for more
wishes no free
trade for you
today
Reviews
"Interval is a collection of liberatory poems that is successful partly due to the poet's sharp critique of the world she lives in. But it's the frank exposition of the fuzzy lines and contradictions (e.g., trying to live progressively in the USA without going crazy) that makes the book a complex and important investigation of 21st century living." -- Frank Sherlock, The Poetry Project Newsletter, Oct/Nov 2004
"Like our Lifetime Achievement Winner, Joanne Kyger, Kaia Sand has spent a long time thinking about ecosystems--systems of feeling, of nature, of duration--and about the political implications of all the above. Like Kyger, her thought is part and parcel of the beauty of the work, dissolved in the line, broken up by the rain and the tears of outrage."--Small Press Traffic Books of the Year 2004
"Read [interval] once for the aesthetic beauty of its construction; twice for the import of the issues it touches; a third time as a guidebook for being a better culture worker; and a fourth to re-experience the amazement of having phrases like "our shuteyes jammed with jingoism/ our doldrums shaped like chevrons" bounce around your braincase." --Noah Eli Gordon, 26 Magazine
"Whether readers approach this book for its vibrant language, its formal variety, or its political content, they will come away admiring interval for the wit and care that shaped each phrase." -- Dan Pinkerton, Smartish Pace
Kaia Sand's interval establishes the "hunger throated sound" of a language in the act of interrogating its moment. Hers is an unflinching and thrillingly political practice, anchored to the "undertow of conversation(s)" having to do with "rolling blackouts," "free-market water," "imperialism" and the question of "how to live in the galore...in this field of human adjustments." Sand is a necessary poet, and bracingly new. --Carolyn Forché
 So shaken to alertness you will be by this collected splendor you will tread more mindfully across "the florid calm" and "themepark america" and learn to heed the wages of inertia. You will lose sleep, for everything full of love makes attentiveness all the more dear. And you will want more, for the recognition of a generations-long absence is the language of interval. This work is a love of possibility and the humanity that goes there, with the collectively-driven conviction "it is now we must begin / to gather." Read this book for its evocation of the sublime in the face of the populace's raw complacency telescoped and intercepted, and do follow the ample instructions: "holler away our do-not-disturb quietude." -- Heather Fuller
"While/ we title our/ meaninglessness/war," Kaia Sand has been writing interval. The sequence "Aquifer" brilliantly cascades through "a perfect/ sierra snowmelt," salty crops, China's disinformation, "western confusion," "overgrazing our conversations," the West Bank, "horses hauling coca cola/ up Honduran mountains" and "tragedy-solution-closure," while the long poem "progeny" finds "no nomenclature only lipstick/ where eyes would be" in the gendered raising of our young."--"First Book Blowouts" Publishers Weekly, 2/23/2004, Vol. 251, Issue 8
"Heart on a Tripod, the e-chap from Kaia Sand, involves the reader immediately in the physical particulars of identity. Using a muscular line as guide, this poem courses over & through different territories of body & spirit, of public & private space."--Nate Pritts, "On the Armory Show at DUSIE #4"
A-E | F-J | K-M | N-R | S-Z | Complete List