Authors
A-E | F-J | K-M | N-R | S-Z | Complete List
« Prev Author (Gerry Loose) | Next Author (Wendy Lotterman) »
Tony Lopez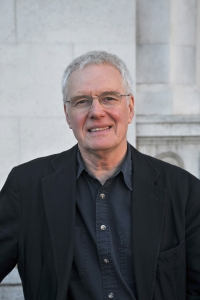 Photo by Caroline Forbes
Biography
Author of 27 books of poetry, fiction and criticism, Tony Lopez was born in 1950 and grew up in Brixton, South London, where he was educated at local state schools. He began working as a freelance on short stories for newspapers and magazines in the early 1970s and published five crime and science fiction novels with New English Library between 1973 and 77, when he gave up writing fiction and went back to school. He attended the University of Essex (BA 1980) and Gonville & Caius College, University of Cambridge (PhD 1986). During the 1980s he made a series of performance art events that were staged in Cambridge, Liverpool, Edinburgh, London and Amsterdam.
His books include the book-length prose poem Only More So and a new edition of False Memory, both available from Shearsman. His poetry features in major anthologies including Twentieth-Century British and Irish Poetry (Oxford University Press), The New Concrete (Hayward Publishing), The Art of the Sonnet (Harvard University Press), Vanishing Points: New Modernist Poems (Salt), Other: British and Irish Poetry since 1970 (Wesleyan University Press), The Dark Would (Apple Pie), and Conductors of Chaos (Picador). He has received awards from the Society of Authors, the Wingate Foundation, the Arts & Humanities Research Council, and from Arts Council England. His criticism includes The Poetry of W.S. Graham (Edinburgh University Press, 1989) and Meaning Performance: Essays on Poetry (Salt, 2006).
He is well known as a poetry performer and has given readings throughout the UK, Europe and North America. He taught for many years at Plymouth University where he was appointed the first Professor of poetry in 2000 and Emeritus Professor in 2009. Since 2009 he has been making art of out words, working on public commissions with animators, programmers, stone carvers, neon and LCD fabricators, art printers and web designers to explore the possibilities of language display. Recent poems have appeared in Poetry (Chicago) and Blackbox Manifold. He lives in Exmouth in Devon.
Recordings
North London, 2005
This recording was made on 25 May 2005, in a flat in north London.
Bibliography
Only More So (Shearsman, 2012)
False Memory (Shearsman, 2012)
Only More So (University of New Orleans Press, 2011)
Covers (Salt, 2007)
Meaning Performance: Essays on Poetry (Salt, 2006)
Equal Signs (Equipage, 2004)
False Memory (Salt, 2003)
Devolution (The Figures, 2000)
Data Shadow (Reality Street, 2000)
False Memory (The Figures, 1996)
Negative Equity (Equipage, 1995)
Stress Management (Boldface Press, 1994)
A Theory of Surplus Labour (Curiously Strong, 1990)
The Poetry of W.S. Graham (Edinburgh University Press, 1989)
A Handbook of British Birds (Pig Press, 1982)
Abstract & Delicious (Secret Books, 1982)
Change (New London Pride, 1978)
The English Disease (Skyline Press, 1978)
Snapshots (Oasis Books, 1976)
Reviews
"Darwin, just out from Acts of Language, just might be the most beautiful book of poems ever written." Ron Silliman, Silliman's Blog, 15 July 2009
"The highlight of the exhibition has to be Tony Lopez's video which shows a screen full of electric calendars that flick between letters in sync to clicking audio. The flicking letters then stop out of sequence, spelling out uncanny sentences that sound like headlines, such as 'Florida turned out to be a fine place for terrorists to train' and 'Three days in the Thames causes the whale to suffer dehydration'. Watching these letters fall into play is exciting and unpredictable." --Harriet Dopson, One Stop Arts, 14 March 2013
"Salt published by far my favourite individual volume of poetry this year, Tony Lopez's False Memory, a series of sonnet sequences collaging and remixing the white noise of 1990s Britain into a disorienting, sometimes hilarious, often sinister, and always satirical challenge." --Robert Potts, The Guardian, 6 December 03
"My favourite book of this year was Tony Lopez's False Memory, a collection of cento-like sonnet sequences which samples and blends the white noise of 1990s Britain - economics, politics, genetics, fashion, real estate, entertainment, literature - in a surreal and satirical collage, sinister, elegantly amusing, and ultimately asking demanding political questions." --Robert Potts, New Statesman, December 03
"Lopez's writing, more than ever, engages with dystopian anxiety the grievous fictions of contemporaneity: it is beset and irked by its inexaustible material on every occasion, but by its denial to Lopez of his own voice, so fully has he read himself into and written himself out of it, genuine horror is forestalled." --Andrew Crozier, Jacket
"A garden of Boccaccio attacked by chainsaws, or a Black Magic advert with a bloody ending: as if Baudrillard had invaded our lives far more deeply than we could have imagined." --Douglas Oliver
"I've been engrossed in False Memory: the clean implacability of the style is arresting - and to a wretched Faustian like myself - even lovely. The world I see is very like the world I see in these poems, and there are many ways of registering being stunned. 'Brought Forward' is to me beyond praise." --Jerome J McGann, Commonwealth Professor of English at the University of Virginia
"Tony Lopez's intricate sonnet sequence is called False Memory, a wonderfully deceptive title for no one 'remembers' better than Lopez, for whom everything that happens, that he reads about or witnesses, becomes grist for the poetic mill. These eleven sets of ten linked unrhymed sonnets are full of startling aperçus and unexpected wisdom. And yet nothing is obvious in Lopez's poetic universe, alternately commonsensical and surreal, down-to-earth and utterly fantastic. The book's 'casualness' is highly crafted and designed: one reads through the sequence without wanting to pause for breath, it's poetic premise being that 'deferred closure is our only chance of attendance / When we finally step out of the taxi and begin to play'." Marjorie Perloff, Sadie Dernham Patek Professor of Humanities, Stanford University
CRITICISM ON TONY LOPEZ
Ben Hickman 'Tony Lopez Only More So and False Memory', The Shearsman Review, 6 August 2014 http://www.shearsman.com/ws-blog/post/585-tony-lopez--only-more-so-and-false-memory
Richard Kerridge 'Ecocriticism', The Year's Work in Critical and Cultural Theory, 21, 1, 1 January 2013, 345-374 https:doi.org/10.1093/ywcct/mbt018
David Herd 'Dislocating Country: Post-War English Poetry and the Politics of Movement'. In Peter Robinson (ed), The Oxford Handbook of Contemporary British and Irish Poetry, Oxford, UK: Oxford University Press, 2013, 497-516
Harriet Dopson, 'A Way with Words: Visual Poetics at the South Bank Centre', One Stop Arts, 14 March 2013 http://onestoparts.com/review-visual-poetics-southbank-rfh
Ron Silliman, Review of Lyn Hejinian The Book of a Thousand Eyes and Tony Lopez Only More So, Silliman's Blog, 10 December 2012 http://ronsilliman.blogspot.co.uk/2012/12/when-in-200-years-students-are-reading.html
J. Peter Moore, 'Durable Excess' review of Only More So, Free Verse, 22 (Spring 2012) http://freeversethejournal.org/Archives/Spring_2012/reviews/T_Lopez.html
Ian Brinton, 'Life Sentences', review of Only More So, PN Review, 206, Vol 38, 6 (2012) http://www.pnreview.co.uk/cgi-bin/scribe?item_id=8596
Robert Hampson, 'Introduction' in Tony Lopez, False Memory. Bristol, UK: Shearsman, 2012, ix-xvii
Stephen Burt, 'Radial Symmetry 3', in Stephen Burt and David Mikics, The Art of the Sonnet. Cambridge, MA: The Belknap Press of Harvard University Press, 2010, 389-392
Michael Peverett, 'Tony Lopez: Darwin', Intercapillary Space, no date (2010), online: http://intercapillaryspace.blogspot.co.uk/2010/03/tony-lopez-darwin.html
Andrew Duncan, 'Tony Lopez: Worrying in Public', in The Council of Heresy: A Primer of Poetry in a Balkanised Terrain. Exeter, UK: Shearsman, 2009, 142-145
Harriet Tarlo, 'Recycles: The Eco-Ethical Poetics of Found Text in Contemporary Poetry, Journal of Ecocriticism, 1, 2 (2009): 114-130
Ron Silliman, 'Review of Darwin', Silliman's Blog, Wednesday 15 July 2009 http://ronsilliman.blogspot.co.uk/2009/07/last-week-when-i-was-having-my-way-with.html
Robert Sheppard, 'Review of Meaning Performance', Journal of British and Irish Innovative Poetry, 1, 1 (September 2009), 103-107
Steve Spence, 'Absurd Narratives; Review of Darwin', Stride, 2009 http://www.stridemagazine.co.uk/Stride%20mag2009/Nov%202009/DarwinTony%20Lopez.htm
Helene Aji, 'Tony Lopez: le Retour du Reel', Lisa, VII, 1 (2009) http://journals.openedition.org/lisa/816
Giles Goodland, 'Two Kinds of Text-Appropriation', review of Covers (2007) and That Barrikans by John Seed, Tears in the Fence, 48 (2008) 125-128
James W. Wood, Review of Covers (2007), Scotland on Sunday (2008)
Robert Hampson, '"Replace the Mindsett": Tony Lopez and the Turning of Public Language' in Tony Lopez and Anthony Caleshu (eds), Poetry and Public Language. Exeter, UK: Shearsman, 2007, 95-106
Richard Kerridge, 'Climate Change and Contemporary Modernist Poetry' in Tony Lopez and Anthony Caleshu (eds), Poetry and Public Language. Exeter, UK: Shearsman, 2007, 131-148
Rupert Loydell, Review of Meaning Performance, Stride http://www.stridemagazine.co.uk/2006/July%202006/lopez%20review.htm
Tony Baker, Review of False Memory, Harvard Review, 28 (2004)
Tony Baker, 'Fools and Madmen' Review of False Memory and Ken Edwards Eight plus Six, The Gig, 17 (2004) 53-55
Edmund Hardy, Review of False Memory (2003), Terrible Work (internet)
Robert Potts, 'Newly dug plots', review of False Memory (2003), Times Literary Supplement, 2 January 2004
Martin Stannard, Review of False Memory (2003), Tears in the Fence, 38 (2004)
Sara Lundquist, 'Linguistic Gold', review of False Memory (2003), Poetry Review, 94, 1 (2004) 73-75
John McAuliffe, 'In Search of the Second Life', review of False Memory (2003) and others, Poetry Ireland Review, 78 (2004) 84-89
Robert Potts, 'Death by a thousand anthologies', round up of 2003 poetry, The Guardian, 6 December 2003
Robert Potts, 'Books of the Year', New Statesman, 1 December 2003, 46
Elizabeth Eger, 'Priests of the Invisible', review of Data Shadow and others, PN Review, 150 (2003) 76-78
Alan Munton, 'Quoting the Culture: The New British Sentence and the Politics of Parataxis in the Avante-garde 1914-2001', Critical Survey, 14, 2 (2002) 22-36
Steve Spence, Review of Devolution, Terrible Work (2002)
Keith Tuma, Introduction and notes to the poem-sequence 'Brought Forward', Anthology of Twentieth-Century British & Irish Poetry (New York: Oxford University Press, 2001) 790-794
Andrew Jordan, Review of Data Shadow, 10th Muse, 11 (2001) 50-51
Andrew Crozier, 'Writing by Numbers: A Preview', Jacket 11 (2000)
Andrew Duncan, Review of Data Shadow, Terrible Work, 10 (2000), 62-66
Anon, Review of Devolution, Publishers Weekly (USA, 2000)
Kevin Killian, Review of Devolution, Traffic (USA, Fall 2000)
Robin Purves, Review of False Memory (1996), Object Permanence, 8 (1997) 69-70
John Wilkinson, 'Men's Work', Review of Stress Management and Nigel Wheale, Phrasing the Light, Fragmente, 7 (1997) 138-148
Michael Haslam, Review of Stress Management, Angel Exhaust, 13 (1996) 95-98
Tony Baker, Review of A Theory of Surplus Labour, Eonta, 2 (1993) 39-40
Richard Kerridge, 'Common Words', Review of A Theory of Surplus Labour, Parataxis: Modernism and Modern Writing, 2 (1992) 48-50
A-E | F-J | K-M | N-R | S-Z | Complete List
« Prev Author (Gerry Loose) | Next Author (Wendy Lotterman) »