Authors
A-E | F-J | K-M | N-R | S-Z | Complete List
« Prev Author (Christine Kennedy) | Next Author (Laura Kilbride) »
David Kennedy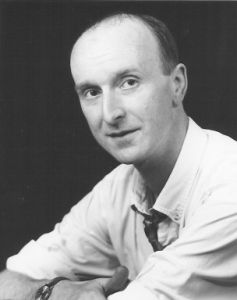 Biography
David Kennedy is Senior Lecturer in English & Creative Writing at the University of Hull. He publishes widely on contemporary British and Irish poetry. Studies of ekphrasis in contemporary British poetry and of British women's experimental poetry 1970-2010 (co-authored with Christine Kennedy) are due from Ashgate and Liverpool University Press in 2013.
Notes
The poems in The Archive of the Now are the products of an AHRC Creative & Performing Arts Fellowship (2004-07) entitled 'Reviving Elegy - towards a distinct contemporary poetry of private and public mourning'. The Fellowship explored whether it is possible to write a contemporary poetry of mourning that is distinct from both the tendency to present anecdotal remembrance as elegy and the generally elegiac tone of much contemporary poetry.
Recordings
Bibliography
Poetry
The Elephant's Typewriter (Scratch, 1996)
Men's Talk (Tom Roder Prize, 1998)
Cities (The Cherry On The Top Press, 1999)
Four True Prophecies of the New State (The Cherry On The Top Press, 1999)
Cornell: A Circuition Around His Circumambulation (West House Books, 2001)
The President of Earth: New and Selected Poems (Salt, 2002)
Eight Excursions [with Rupert Loydell] (The Cherry On The Top Press, 2003)
The Roads (Salt, 2004)
The Devil's Bookshop (Salt, 2007)
MY Atrocity (Oystercatcher, 2009)
Mistral (Rack, 2010)
Criticism, Translations, etc
Max Jacob: The Dice Cup Part 1 [translation with Christopher Pilling] (Atlas, 2000)
Additional Apparitions: Poetry, Performance & Site Specificity [co-edited with Keith Tuma] (The Cherry On The Top Press, 2002)
Douglas Dunn (Northcote House, 2006)
Necessary Steps: Essays on Poetry, Elegy, Walking, Spirit (Stride 2006) [As editor]
Elegy (Routledge New Critical Idiom, 2008)
Online Works
Web Works
Sample Text
Fugitives 
'Lyre Co.' 
I crash out of dreams of bandits and whores
    and dark figures wading
    through tall grass,
their dogs surfacing, diving, staying under,
to here, a van called Lyreco past my window,
    Orphic overtones,
    so cool a flash enjoy it,
password honey congratulations,
 
please try again, random word random word,
    tool patch removal tools,
    please try again.
I crash out of poems as still absorption 
of design, Japanese girl vs. playboy
    eager to see you
    sexy pictures,
new nice funny humour excite pow'ful,
to here, I hang five, hang ten, trying to see
    further than the end
    of my tongue, to rewire
desire for each other only and for justice. 
'Dollipop'
Hannah Hoch with doll
Body. Doll. Body. Doll.
         The woman holds up
her quarter-image.
        Sister particle,
meine beste Freundin,
       'special girlfriend'.
Additional apparition
        of 'das Du', of the body
you thought you knew.
        Soft candy. Hard candy.
Soft candy. Hard candy.
        Doubled ladytron,
tilt, slant and section.
        Topological mirror.
Arise! Behold!
        The female modular.
Doll. Body. Doll. Body.
        Matter. Maquette. Metaphor.
The doll looks back
        at the woman.
Hard candy. Soft candy.
        Hardy candy. Soft candy.
Outlook on 'das Du'.
        The names jump
forth and back.
        Momma geometry.
Baby zigzag.  
        Meat prop. Dollipop.
Reviews
David Kennedy's poetry
(a) is full of quirky argumentation and aleatory charm;
(b) gives us multi-faceted physical sensations;
(c) demands and celebrates through a dubbed-up freeform mutant rap;
(d) offers an unblinking poetics free of specious closure;
(e) has an oddly shifted sense of perspective, perhaps with just a dash of that New York hot sauce;
(f) is full of shouted words and outbursts, clashing industrial rhythms and exhilarating hard-edged phrases;
(g) has done something original and very vivid here. Prynne's poetry has, for years, been using vocabulary from free market economics, but I don't think he has linked it with commonplace but bizarre experiences;
(h) writhes with energy;
(i) has something of the magic of Ron Padgett's exquisite corpse-styled enjambments—or collaging—of disparate moments;
(j) ends with the distinct and memorable image of 'nerves laced into the air'.
With thanks to Rupert Loydell and to reviewers at Metre, The Bow-Wow Shop, Poetry Review, Shearsman, Stride, Jacket, and Poetry London.
A-E | F-J | K-M | N-R | S-Z | Complete List
« Prev Author (Christine Kennedy) | Next Author (Laura Kilbride) »