Authors
A-E | F-J | K-M | N-R | S-Z | Complete List
« Prev Author (Ian Hunt) | Next Author (Lanny Jordan Jackson) »
Alexander Hutchison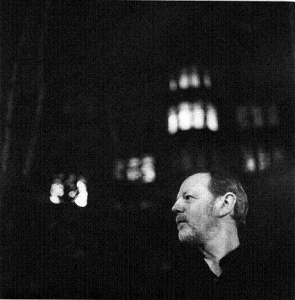 Biography
Alexander Hutchison was born in north-east Scotland, and has worked mostly as a university teacher, including a lengthy period in Canada and the USA. He is an occasional translator into Scots and English, and (more readily now) a singer of traditional songs. His first collection, Deep-Tap Tree (University of Massachusetts Press, 1978) is still in print. That was followed by The Moon Calf (Galliard, 1990), and two pamphlets from Akros: Epitaph for a Butcher (1997) and Sparks in the Dark (2002). Carbon Atom (Link-light, 2006) and Scales Dog (Salt 2007) followed each other shortly, and Epistle from Pevkos (2009) -- a tribute piece to the late poet Gael Turnbull --  was issued as a pamphlet from Link-light. Another pamphlet Tardigrade (2013) was published by Perjink Press, and Salt brought out his latest collection Bones & Breath at the end of that year.
Alexander Hutchison's website
Recordings
Bibliography
Sample Text
AN OUNCE OF WIT
TO A POUND OF CLERGY

 

Let's begin our panegyric: weft of wool
and warp of cotton. Tow a drogue at your stern
so you won't broach to. Abandon your tails
and cheek pouches. For loft, for distance
put the baffy back in your bag.

.

Who wants this mush of meat and fat: poets
of the pemmican (dried and pounded) school -
with bugger the berry to give it some taste?

Where it's grind me to powders, and cankering
creeds - with never a blink of primrose banks
never a hint of beech woods building.

.

Strip off your rags and bend the bow.
Get your ordinance full and flowing.

.

And scrape me rather some pepperpots of potency:
the grains of Paradise, the cubeb, the chili
the cayenne of Guinea, the pods of Sichuan.

.

Put worms to work, and moles to mark them.

.

I'd have us smile like a parcel of seraphs.
Not lolloping loose; not dying duckies.

.

Ladies in sable, come up, come in -
take the weight off your feet, take ease
of all your rasping parts.

Warty newts and fire-bellied toads
continue your aquatic and sociable ways.
Natterjacks of heathland and dunes (your loud
rolling call like a ratchet). Corncrake
of bogland and grasses; fugitive, invisible.

.

Aspect of all aslip and aslither: things
that tremble, things athwart. Come gastropods
come snails and limpets - sallow, blanch
and black-avisèd.

.

Things that scuttle, that squeal, or puff
themselves up, or launch themselves through
the air at intruders.

.

Take root all sprouts of pseudoplatanus.
Protophytes and protomorphs, let's get a move on.
With hooks and burrs and green helicopters.

.

Set with ardour bright and clear
beams, jambs, lintel and moulding:
an architrave of red-hot promise.

.

Eager and apt we bristle, we burgeon.

The hand of the glazier puts putty to the frame.
The pastry-cook pounds out his faintest concoction.

.

Knit up the bones of computation.

Let like kiss like.
Let bright affinity walk
in anklets of amber, in fillets
of silver.

.

Not ten go, but twenty posts out of your way.

.

Cool and open and tempting the vista.
The spiral of the condor vast and leisurely.
The bat at noon (anomalous) in twittering loops.

.

Let all things fused
transparent, opaque
enjoy diversity.

Snaps and scraps of quick allurement.

.

Stone-crop in succulent rosettes
of yellow-pink and crimson-green.

.

Penetration of the optic:
when all the down-draft of wintry webs
is wafted away.

.

O, the women in dove-grey
swimming suits!

the roundel windows
admitting the light of day.

 
A-E | F-J | K-M | N-R | S-Z | Complete List
« Prev Author (Ian Hunt) | Next Author (Lanny Jordan Jackson) »