Authors
A-E | F-J | K-M | N-R | S-Z | Complete List
« Prev Author (Paul Hawkins) | Next Author (Alan Hay) »
Ralph Hawkins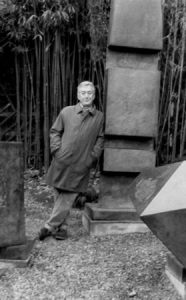 Biography
Ralph Hawkins has been writing poetry since the late 1970s when he was one of a number of radical poets gathered at the University of Essex. He now lives on the Essex coast at Brightlingsea. Of many publications the more substantial are Tell Me No More and Tell Me (Grosseteste 1981), At Last Away (Galloping Dog Press 1988), The Coiling Dragon... (Equipage), and his 2004 Shearsman collection The Moon, the Chief Hairdresser.
Recordings
Stamford Hill, North London, 2006
This recording was made on 17 March 2006, at a house in Stamford Hill, north London.
Bibliography
English Literature, The Many Press 1979
Well, You Could Do, Curiously Strong 1979
The Word From The One, Galloping Dog 1980
Soft in the Brains, Spanner 1981
Tell Me No More And Tell Me, Grosseteste 1981
At Last Away, Galloping Dog 1988
Within & Without, Silver Hounds 1993
Writ, Active in Airtime 1993
Routes & Abrasions, Poetical Histories 1993
Flecks, Oasis Books & Permanent Press 1995
Pelt, Active in Airtime 1998
The Coiling Dragon / The Scarlet Bird / The White Tiger / A Blue & Misted Shroud, Equipage 2000
Pool, Writers Forum 2000
The Primeval Atom, Writers Forum 2000
The MOON, The Chief Hairdresser (highlights), Shearsman 2004
Exact Rubber Bridges, Slack Buddha Press 2004
Collaborations
with Bob Cobbing:
G Curled Ribbon, Writers Forum 2000
a split, Writers Forum 2000
A Quonk, Writers Forum 2001
Signatures or the Wasp Under Custard, Writers Forum 2001
Gloria, Writers Forum 2001
The Next Morning, Writers Forum 2002
Everyday Pursuits, 2002
with Alan Halsey and Kelvin Cocoran: Quaoar, West House Books 2006
Anthologies
A Various Art, Carcanet 1987 & Paladin 1990
the new british poetry, Paladin 1988
Assemblage, Essex University 1990
Seeing In The Dark, Serpent's Tail 1990
Poets On Writing, Macmillan 1992
Brought To Book, Penguin 1994
April Eye: Poems For Peter Riley, Infernal Methods 2000
Onsets, The Gig 2004
Interviews
Ted Berrigan interviewed by Ralph Hawkins in Talking in Tranquility: Interviews with Ted Berrigan, Avenue B / O Books 1991
Ralph Hawkins interviewed by Ian Davidson in Six Poets: Views & Interviews, The Gig 2001
Articles
Magazines (Co-Edited)
The Human Handkerchief (with Douglas Oliver, Simon Pettet, Charles Ingham et al) Essex University
Ochre Magazine (with Charles Ingham) Essex University
Active in Airtime (with Ben Raworth & John Muckle) Colchester / Brightlingsea
Sample Text
The Sylph in Stockings
Airy or Shadowy Ones
are baffled by phylacteries of dog's droppings
and a snake's head
is sovereign against baleful manifestations
Never wander off humming
with a notion to bathe in lonely mountain pools
WARNING water-girls hang out there
Carry dog-lites in your pocket
to shame their nakedness
their rich sticky-bud honey-stuck nipples
Don't get half arsed strolling at night
Don't stop for a piss behind a tree
gazing up at Orion's Belt
because old goat-man will stop by
Carry some sliced tortoise meat as a counter-spell
keep a prophylactic in your back pocket
or you may swell up and die
The Shadowy Ones will make friends with dogs
knowing the wolf-whistle by heart
they will learn your name and call it on the wind
They have no shame naked as daylight
They will sit around welcoming fires at night
playing their enticing flutes of random and chaos
Reviews
'The poems are loose-jointed, limber, the poem as orbit of words around a body that is always dropping away. Sometimes the poems threaten dissolution or brilliance then disappoint either expectation. They go slack. I suspect this is partly the point. The poems are cannier than that. There is one that declares itself "First Anti Poem" and another which is "The Next Poem" and begins:
 defeated by (I don't know what and everything)
 I stem a flow
 I've stopped now but the words wobble out in some form
Ralph Hawkins is the writer of non-collapsible ironies. Or, of canny wobbles.' --Edmund Hardy, Terrible Work.
A-E | F-J | K-M | N-R | S-Z | Complete List