Authors
A-E | F-J | K-M | N-R | S-Z | Complete List
« Prev Author (Jérôme Game) | Next Author (Harry Gilonis) »
Susana Gardner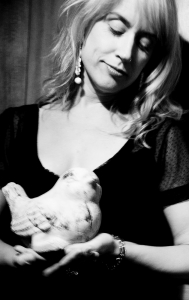 Biography
Susana Gardner is the author of the full-length poetry collections HERSO (Black Radish Books, 2011) and [ LAPSED INSEL WEARY ] (The Tangent Press, 2008). Her third book, CADDISH is just out from Black Radish Books, spring 2013. She has published several chapbooks, including Hyper-Phantasie Constructs (Dusie Kollektiv, 2010) and Herso (University of Theory and Memorabilia Press, 2009). Her poetry has appeared in many online and print publications including Jacket, How2, Puerto Del Sol, and Cambridge Literary Review among others. Her work has also been featured in several anthologies, including 131.839 slög með bilum (131,839 keystrokes with spaces) (Ntamo, Finland, 2007) and NOT FOR MOTHERS ONLY: CONTEMPORARY POEMS ON CHILD-GETTING AND CHILD-REARING (Fence Books, United States, 2007). She edits and curates the online poetics journal and experimental kollektiv press, Dusie.
Recordings
Contemporary Women's Experimental Poetry festival
The following recording was made at the Contemporary Women's Experimental Poetry festival, held 6-8 October 2006 in Cambridge, UK and organised by Emily Critchley with help from Catherine Brown.
Bibliography
Interviews
Readings and Sound Links
Reviews
Press Pages, Online Publications & other links
Translations
Reviews
'Herso is one of the most beautiful, simple-complex works I have read. Nicole Mauro did a lovely job – the design is classy and elegant, and opening up the folder into the old-style sheets of paper, without even reading a word, I could feel the energy of the language. It fires at you, with immediacy and delicacy, and stays with you, bringing slowly, over time, after you read it, various layers. The emotion in Gardner's work is coming upon itself. You become involved, as if reading a novel, with the protagonist, and feel everything she is going through. Even with the wisdom of experience and the distance of time and space, the emotions remain raw, and Gardner's truth of emotion is all of ours. The truth that she grapples with "…is always the / sea – no matter – how long or far I / must depart from it – it is always there / and present…" She is a master of line breaks, echoing in the breaks what is unreachable and yet connected. A cohesive, heartbreaking work of truth.' -Arielle Dim Guy, author of Three Geogaophies: A Milkmaid's Grimoire
A-E | F-J | K-M | N-R | S-Z | Complete List