Authors
A-E | F-J | K-M | N-R | S-Z | Complete List
« Prev Author (Virginia Firnberg) | Next Author (Roy Fisher) »
Allen Fisher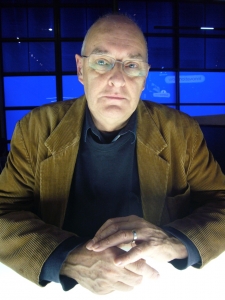 Biography
Allen Fisher... involved in performance and installation art since 1970. A poet, painter, publisher and art historian, has produced over one hundred and fifty chapbooks and books of poetry, graphics and art documentation. Editor of Edible Magazine, co-ed of Aloes Books and New London Pride and edits Spanner. Emeritus Professor of Poetry & Art at the Manchester Metropolitan University and lives in Hereford. Has exhibited paintings in many shows including a one-man show in Hereford 2013, in London 2003, retrospective shows at York 1993 and at the Hereford City Art Gallery and Museum 1994. Examples of his work are in the Tate collection, London, the King's College Archive, London and the Living Museum, Iceland, as well as private collections in Australia, Britain, UAE and the USA. A short film of his recent work on a peat bog appears on https://vimeo.com/218967762/6e818e2925. His last six books were IMPERFECT FIT: Aesthetic Function, Facture & Perception in Art and Writing since 1950 (2016); GRAVITY AS A CONSEQUENCE OF SHAPE (2016); PLACE, (1971-1981, a new collected edition 2016); Ideas on the Culture Dreamed of (1983, reissued 2016); SPUTTOR, 2014; TIP REGARD, 2014.
His website includes a bibliography.
Recordings
Bibliography
The Marvels of Lambeth. Interviews and Statements by Allen Fisher 1973-2005, edited by Andrew Duncan (Shearsman, 2013), ISBN 978 -1-84861-273-0.
PROPOSALS: poem-image-text (Spanner, 2010), ISBN 978-0-85652-089-1.
LEANS (Salt Publishing, 2007), ISBN 978-1-84471-319-6.
Confidence in lack, essays (Writers Forum, 2007), ISBN 978-1-84254-105-0.
PLACE (Reality Street, 2005), ISBN: 1-874400-28-8. Place was named by Iain Sinclair as one of the 'Books of the Year' in The Guardian (26 November)
ENTANGLEMENT (Willowdale, Ontario, Canada: The Gig, 2004), 280pp, ISBN: 0-973587-50-4
GRAVITY (Salt Publishing, 2004), 280pp, ISBN: 1-844710-34-3
and from the superb Stem a CD: GRAVITY SHAPES
His work was talked about a lot in Robert Sheppard's Liverpool U.P. book The Poetry of Saying (2006) and in Tony Lopez's Salt book Meaning Performance (2006).
Sample Text
SPINOR
Reverse thrust heard

across lake from

behind mountain

indicative of a

storm travels towards

hearers another

spot of rain on

storm edge felt on

an arm before it lifts

to empty a vodka sunshine

flies bring squint

seen and then felt

prepare a scum of oil

respect for indenture and taut song

stains intact.

Lulled into false

expectation

run out of comfort

bin through mud

The Ecologist

Draws foresight scenarios

Fizz lifts weight

Trapped in ice over thousands of years.

fly dizziness distils fuss

mirage intra merrygo

hottest year

since measurement began

The horizon arm

refines thought

about entities and phenomena

stare the many sundrops pavement

importance of benchmark of anthropogenic

climate change climate sensitivity

Intact fear before refusal of violence

thought and infinity a

sponge of universe

systematic exploration of uncertainties

the complex variety of processes

that actually determine climate sensitivity.

In bed the weather man

gives up

the ghost

the fainter burnishes wheel

'a fielded capability'

groove this way and that arm

in his head

strictly imaginary

storm pull anger

the flappable impulses of hafnium dioxide

or strontium titanate shifts

of white light to deep blue

conductivity to insulation

Then she noticed the plant not carrot

but bachelor's button thriving

in bed of onions and buckwheat

he sits in the corner of the house

rafter thoughts released

bitten

cat whiskers moment

spread in surface warming

predictions dominated by process

uncertainties burned then

wheel strain in scree

the fast departed grip

Local Stunfire 2.31 17.08.04

grooves through at last

other occupants come go

Shang Hai and Kuala Lumpur, in and

out on jets via Heathrow

beneath them pears thud

the lawn around a woodpecker.

In the fruit garden, spurt

then drops beyond

the margin innovation

weight felt

remedy shifts twists

on broken rationale.

Sound of voices from Uyghur and Uzbek

demanding not clearing.

news of floods Cornwall and Bangladesh

shack the horizon

drenched catalpa

papered over wall

centre of the garden just below

blossom all over the path and

dotted shadow line from clothes pegs

turn glisten of damaged daisies

into a sequence torn and push-in

pointed pungent invisible,

he sits in the corner of the house

pin rides in awe wonders

Another part of the same garden

stress recorded marks grass.
A-E | F-J | K-M | N-R | S-Z | Complete List
« Prev Author (Virginia Firnberg) | Next Author (Roy Fisher) »