Authors
A-E | F-J | K-M | N-R | S-Z | Complete List
« Prev Author (Elizabeth Emerald) | Next Author (Carrie Etter) »
Stephen Emmerson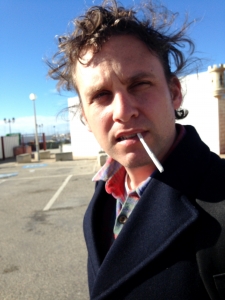 Biography
Stephen Emmerson's publications include: 'A never ending poem... (Zimzalla), Telegraphic Transcriptions (Dept Press / Stranger Press), No Ideas but in Things (Dark Windows Press), Albion (Like This Press), The Last Ward (Very Small Kitchen), Pharmacopoetics,(Apple Pie Editions) Stephen Emmerson's Poetry Holes (If P then Q), All my Pornography (The Red Ceilings), and Comfortable Knives (KFS).
Installations / exhibitions include: Albion, The Dark Would, Visual Poetics at the South Bank Centre, Pharmacopoetics, and Placebo at Farringdon Factory.
Anthologies include: The Other Room Anthology, Dear World and Everyone in it (Bloodaxe), The Dark Would (Apple Pie Editions), 18s (KFS), and Urban Physics Garden.
Recordings
QMUL recording studio
This recording was made in the studio at Queen Mary University of London on 17 May 2014 by Kester Richardson-Dawes.
Video
Translation of Rilke

A performance on March 15th 2014, at the RichMix arts centre in Shoreditch, London. Fjender (part of the Enemies project www.weareenemies.com) celebrated cutting edge avant garde poetry from Europe, centred around contemporary Danish poets. A selection of British poets were asked to write original works as commissions in response to the themes of Morten Sondergaard's Wordpharmacy http://www.wordpharmacy.com/ including Stephen Emmerson.