Authors
A-E | F-J | K-M | N-R | S-Z | Complete List
« Prev Author (Sam Riviere) | Next Author (Lisa Robertson) »
Luke Roberts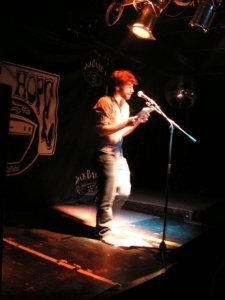 Biography
Born in 1987, grew up mainly in the North of England. Studied at Cambridge and at Birkbeck.  Held the Harper-Wood Studentship for Poetry at St John's College, Cambridge 2009/2010, and travelled to the USA and Iceland to work on a book of poems about moon landings, conspiracies, snake oil, and other irrationalities. Currently researching a PhD on the Poetry of Barry MacSweeney. Helps edit Grasp Press and to organise the Cambridge Reading Series.
Recordings
Bibliography
Ripcord Worship (Grasp Press 2008)
Witness Protection (Grasp Press 2009)
Untitled Colossal Parlour Odes (Bad Press 2011) [with Marianne Morris, Sophie Robinson, and Josh Stanley]
False Flags (Forthcoming 2011)
Also numerous handmade chapbooks, including Terraform Lecture Notes (March 2010) and Human Terrain (October 2009). Magazine publications include Cambridge Literary Review and Damn the Caesars.
Sample Text
From Terraform Lecture Notes
Simultaneous domain left hand right hand crystals to defeat death it's military
robotic temples & the open window. How mystifying of you, lamp eater,
with the solid telescope of only eyes another word for glass advancing
science sunk into middle-aged ethics.  Healthy stars to plot by, the rotating HQ,
empire liquefied and drilled into ears, waxing hot and cold. The HQ is a liver to weep
for livers squared more like thousands of organs blinking on & off, eaten in flight between
eye-feed, hamster wheels, a new branch of water. At skin level, pulling tight
into a sheet to explain some stellar grievance: 'If we really get fucked by a comet
the disaster movie will be a liver getting eaten by some bird that doesn't shit'.
Listen.  It's about the terminally self-efficient unswollen vulture enclosure. 
By the fire heretical dovetails annex Planetarium A, Gnostics say STOP
with a crossbow, so spill to entitlement. Failed to recognise the body shape,
the body isn't a planet, mindlessly turning cheap eye detail. Plan B has changes, pin
the lamps to the floor. The Ozone layer yawns because:  A) it's bored of being boring
and B) it's going to be replaced, inside out stretched into an industrial
microscope, a film like skin wrapping planets into lasers, burning your eyes.
Predictably, everyone is scared. In hospital are admitted many who die to see
visible universe, its sexual ecstasy squared, plus new shapes, inhospitable
planets hover, burn-out every car on the street. But then that gets boring too
because light is fucking slow when you really think about it. You are faster.
A-E | F-J | K-M | N-R | S-Z | Complete List
« Prev Author (Sam Riviere) | Next Author (Lisa Robertson) »