Authors
A-E | F-J | K-M | N-R | S-Z | Complete List
« Prev Author (Nick Potamitis) | Next Author (Katy Price) »
Frances Presley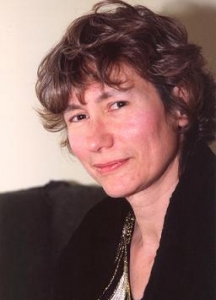 Biography
Born Chesterfield, Derbyshire 1952, of English and Dutch-Indonesian parents. My father's family were miners and farmers in Derbyshire, although he became a teacher.  My mother lived in the Dutch colony of Indonesia until the Second World War, and met my father after being liberated from a Japanese concentration camp.  I have one brother.  We lived first in Derbyshire, then Lincolnshire and finally moved to Somerset. I grew up in the country and had freedom to roam, although the agribusiness was already changing the landscape. My secondary education was at Grantham Girls' Grammar School, where I rebelled against the rounded vowel, and later at Minehead Upper School.
My defining moment in poetry came in 1969 when I first read Ezra Pound's 'Lustra'. My poetic and political interests developed as an undergraduate in the 70s at the University of East Anglia (UEA), studying American literature and history.  I also spent a year in the United States at Franklin & Marshall College where I wrote about contemporary American poetry.  However, in the States I realized that I was European and not just English, and decided to learn more about  European poetry.  My MA thesis at the University of Sussex compared Ezra Pound and Guillaume Apollinaire, and their response to the visual arts.  It was followed by a year at the University of Neuchatel, and research in modern French poetry and surrealism.  Returning to UEA, I completed an M Phil, which was a critique of the contemporary French poet Yves Bonnefoy, and of 'logocentrism' in French poetry.
In 1980 I moved to London to work as a librarian, and later specialized in research and information for community development and anti-racism projects.  More recently I worked part time for the national Poetry Library.  I joined a housing co-operative in North London, which is where I still live.  Although I had been writing throughout the 70s, and publishing in university arts magazines, my own writing and performance came into focus in the 80s.  I was involved in the Sub Voicive readings in their various incarnations, and it was through these that I met my partner Gavin Selerie.  I was a member and later co-ordinator of the Islington Poetry Workshop.  I was also closely involved in the small press North and South, with Peterjon and Yasmin Skelt and David Annwn.  North and South published my first collection of poems and prose: The Sex of Art.
In the early 90s I established my own small press, the Other Press, and published my second book Hula Hoop.  Ian Robinson, of Oasis Books, published my third collection, Linocut in 1997.  I embarked on a major collaboration and performance with the artist Irma Irsara, based around the fashion industry and women's clothing, and part of this project is available in book form as Automatic cross stitch (Other Press, 2000).  I also collaborated on an innovative simultaneous email text and performance with the poet Elizabeth James – Neither the One nor the Other (Form Books 1999).
Somerset Letters (Oasis, 2002), which began as a collaboration with the poet Elaine Randell, experiments with the prose poem, as well as exploring the themes of landscape and rural communities. The sequence Paravane originated with discussions on the How2 editorial board post 9/11, but then focused on the IRA bombsites in London.  It was published  as part of New and selected poems, 1996-2003, from Salt.  Since then I have worked on other landscape sequences: Myne (Shearsman, 2006) takes its title from the old name for Minehead in Somerset.  Lines of Sight (Shearsman 2009) includes an approach to Neolithic stone sites on Exmoor, part of a multi-media collaboration with Tilla Brading, published as Stone settings (Odyssey, 2010).  My current project, Halse concerns trees and tree names and 'halse' is Exmoor dialect for hazel (published by Shearsman in 2014).  My latest book is An Alphabet for Alina (Five Seasons, 2012), a collaboration with artist Peterjon Skelt, which exploits the lexical and visual possibilities of a girl's alphabet.

I have also written various reviews and essays, about my poetic practice and that of other poets, especially British women poets (see bibliography).
Recordings
British Library, 2008
This recording was made by Penelope Woods at the British Library on 14 May 2008.
Lines of Sight launch reading
3 November 2009, Shearsman, Swedenborg Hall, London, 25 mins (no individual tracks).
Set 1: Stone settings
Introduction
Hazel Eardley-Wilmot
White ladder
Brer               
Dina Portway-Dobson
Set 2: Longstones
Triscombe stone
Triscombe stone (4)
Naked boy drunk
Naked boys beaten
The naked boy David
Naked Boy as linguistic confusion
Naked boy
Caratacus stone
& Note on the inscription
West Anstey longstone
Xing the Line
The Apple Tree, Mount Pleasant, 16 July 2012.  Recorded by Colin Still, Optic Nerve, London SE3 7UE.