Authors
A-E | F-J | K-M | N-R | S-Z | Complete List
« Prev Author (Barry MacSweeney) | Next Author (Lila Matsumoto) »
Peter Manson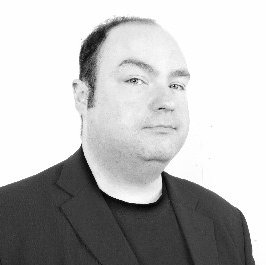 Biography
Peter Manson was born in 1969 in Glasgow, where he still lives. He has worked as a proofreader, editor and Civil Servant, and was the 2005-6 Judith E. Wilson Visiting Fellow in Poetry at the University of Cambridge. With Robin Purves, he co-edits the Object Permanence pamphlet series. For more information, see his website, Freebase Accordion.
Recordings
Cambridge, 2005
London, 2005
Recorded at Michael Kindellan's flat in London, 11 May 2005.
Bibliography
For the Good of Liars (poems, Barque Press 2006)
Adjunct: an Undigest (prose, Edinburgh Review 2005)
"Before and After Mallarmé" (translations, Survivors' Press 2005)
"Two renga" (Collaborations with the poet Elizabeth James, in the Reality Street Editions 4-pack "Renga+", 2002), "Rosebud" (Folded card, Form Books 2002)
"Birth Windows" (poems, Barque Press 1999)
"me generation" (unclassified verbal and visual work, Writers Forum 1997)
"iter atur e" (visuals, Writers Forum 1995)
An audio CD of Peter Manson reading from "Adjunct: an Undigest" was released by Stem Recordings in 2004.
Sample Text
Lithops divergens
no returned breath
by day the half-heart
lord of its own
supply         changes self
for self
smaller than poem
& giving nothing away
Reviews
"For those who believe erroneously that the avant-garde have no sense of humour, Peter Manson's Adjunct, An Undigest - certainly the most entertaining collection of the year - is highly recommended. A seven-year creation, it manically folds together rueful diary entries, irreverent comments on artists, writers and musicians, gleeful misprints, and all sorts of found and heard material. Undigested in appearance, but regurgitated in combinations either crafted or mathematically determined, the consistent hilarity of its relentless, deadpan juxtapositions has inescapably serious implications too." (Robert Potts, The Guardian)
"Manson's technique is to embroider pieces of real modern English onto a base text which broadly follows the shape, sounds and syntax of the original French verse. The poems that result retain the vagaries of their models while creating a persuasive illusion of living speech, almost as if the language were being distorted for the purposes of original expression, not translation." (Jeremy Noel-Tod, The Times Literary Supplement, on "Before and After Mallarmé")
A-E | F-J | K-M | N-R | S-Z | Complete List
« Prev Author (Barry MacSweeney) | Next Author (Lila Matsumoto) »