Authors
A-E | F-J | K-M | N-R | S-Z | Complete List
« Prev Author (Dorothy Lehane) | Next Author (Ira Lightman) »
Tom Leonard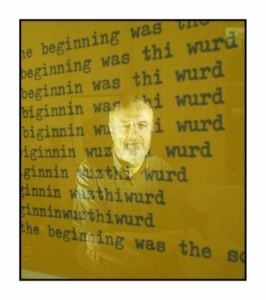 Recordings
Glasgow, 2005
This is edited from a public reading at Oran Mor in Glasgow recorded by Camcorder Guerrillas for a DVD that was made in honour of Mordechai Vanunu, who was standing for rector of Glasgow University. The poems in the excerpt from the reading are:
The Fair Cop
doon the close
the enemy without
First Poster Poem against the Criminal Injustice Bill
yi surta
the dropout
moral philosophy
a summer's day
poetry
Remembrance Day
June the 2nd
In Hospital
Glasgow, late 1990s
Tom writes: 'The recording was made in Glasgow in the late 1990s by someone then compiling a programme for Danish radio about Scottish poetry. He later sent me a tape of nora's place though I don't know if it was actually broadcast.'
Three Texts for Tape
Three Texts for Tape, recorded at home in Glasgow in 1978 using Tom's Teac A-3340S tape recorder.
Bibliography
Selection
access to the silence (Poems 1984-2004): Etruscan Books
Intimate Voices: Poems 1965-83. Newcastle 1984; republished London Vintage 1995; Republished Etruscan Books 2003
Reports from the Present: Essays, Political Satires and Poems 1982-1994. Cape 1995
Places of the Mind: The Life and Works of James Thomson (B.V.). Cape 1993
Radical Renfrew: Poetry from the French Revolution to the First World War (ed.). Polygon 1990
A-E | F-J | K-M | N-R | S-Z | Complete List
« Prev Author (Dorothy Lehane) | Next Author (Ira Lightman) »