Authors
A-E | F-J | K-M | N-R | S-Z | Complete List
« Prev Author (Patricia Farrell) | Next Author (Kai Fierle-Hedrick) »
Matt ffytche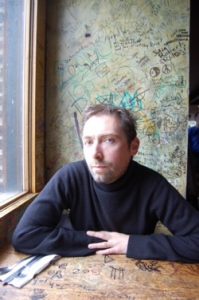 Biography
Matt ffytche teaches modernist literature at Queen Mary College, University of London, and has taught courses on creative writing, literary theory and the history of madness at Royal Holloway and Birkbeck FCE. His research considers poetics, literary theory, and the relationship between literature and the history of psychology. Published writing on contemporary poetry includes articles on George Oppen, J. H. Prynne, and Keston Sutherland. A long-term contributor of music criticism to the Wire, Matt has also worked as an editor on the magazines The Modern Review and Marxism Today and has written on cultural theory for the Guardian and the Independent on Sunday. A new volume of poems is due out in 2007 from Pilot Press (Buffalo, USA).
Recordings
St. John's College, Cambridge, 2006
This recording was made on 16 February 2006 at St John's College, Cambridge.
Bibliography
What Fell Out in Life (Barque, 2006)
A-E | F-J | K-M | N-R | S-Z | Complete List
« Prev Author (Patricia Farrell) | Next Author (Kai Fierle-Hedrick) »