Authors
« Prev Author (Bill Griffiths) | Next Author (John Hall) »
Catherine Hales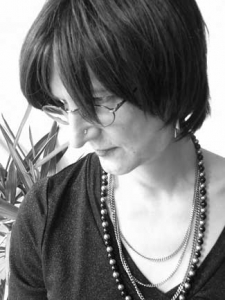 Catherine Hales
Biography
There's not much to tell. I grew up in Egham, Surrey, did a Comp. Lit. degree in Norwich with a year abroad in Bonn, and tried disastrously to be a teacher, before ending up in Stuttgart with a job as a translator in a law firm. I've lived in Berlin's Bohemian Village for the past ten years or so, working as a freelance translator, writing, doing the occasional reading and co-organising Berlin's festival of poetry in English, Poetry Hearings, as well as translating some of the many German poets living in the city.
When I was ten I wanted to be an archaeologist. I never realised that ambition, but archaeology is nonetheless a rich seam of metaphor; the accumulated resonances of language part of the process of creating meaning from discarded scraps and apparently meaningless jargon.
Notes
Recordings
Recorded in the poet's apartment, Berlin, November 2010
from 'a bestiary of so[nne][r]ts' (Oystercatcher, 2010)
from 'hazard or fall' (Shearsman Books 2010)
Bibliography
Books & pamphlets
hazard or fall (Shearsman Books 2010)
a bestiary of so[nne][r]ts (Oystercatcher Press 2010)
out of mind (flash pamphlets berlin 2006)
Anthologies
Infinite Difference: Other Poetries by UK Women Poets, edited by Carrie Etter (Shearsman Books 2010)
As translator
Berlin Fresco. Selected Poems by Norbert Hummelt (Shearsman Books 2010)
Anna Hoffmann, Totenmaske/Death Mask (Corvinus Presse Berlin 2010)
There are also quite a few translations of contemporary German poets scattered around in various magazines and journals such as the Chicago Review, the Atlanta Review, LIT, Shearsman and Tears in the Fence, as well as here http://www.no-mans-land.org/ and here http://www.leafepress.com/litter1/huchel/huchel01.html
My poem 'temporary lodging' was the Oxford Brookes Poetry Centre Poem of the Week in November 2010 and my translation of a poem by Norbert Hummelt, 'exit', in February 2011.
Statement:
http://gistsandpiths.blogspot.com/search/label/Catherine%20Hales
Sample Text
marginalia
who writes that sort of thing by hand any more
it's a short step from that to putting it all aside
for a pocketful of buy two get one free & who
can say whether this is just incompetence
or the result of a well-thought-out strategy
the subtext being as it's always been an improvement
on last year's menu & improvisation as a means
of placing hand on heart & aching for authentic
melodrama complete with mandolins
& all the trimmings the offer stands please
read carefully it's wholly inappropriate
a crispy base just like in the restaurant
I'm not sure where all this is leading but I like
the punctuation you may tick more than one box
Reviews
"Hales' finely tuned ear and sense of form give structure to poems which deploy cast-off chunks of language and casually, continuously subvert the reader's expectations. ... [c]ut with the sure hand of a surgeon ... The best poems ... are all the more successful for what they risk, and finally achieve: fresh language which expresses the chaos of life in the 21st century, but does not sacrifice human warmth and the sure intelligence of tradition." (Stephan Delbos on hazard or fall in 'Grasp')
"... the working method is a deliberate disruption of a single, linear reading of history and the world. Boo to grand narratives. Hooray for the fragment. At the very least the poems draw attention to how the past is part of the present – not in the sense of it having made us, but of us making it." (Alistair Noon on a bestiary of so[nne][r]ts in 'Sand')
"...keen to investigate the formal possibilities, subject territories and the varied registers available to poetry today." (Peter Dent)