Archive of the Now
the source for British innovative poetry
The Archive of the Now is a digital collection of over 100 poets performing their own work. Based at Queen Mary University of London, it hosts many specially commissioned recordings unavailable anywhere else, all of which can be downloaded free of charge.
News
4/1/13 New Year, Now Archive.  The Archive is in the middle of an active recruitment season, with new recordings recently added by Marc Atkins, James Byrne, Alan Hay, Justin Katko, Ed Luker, Joe Luna, Lisa Robertson, Verity Spott, Keston Sutherland, Timothy Thornton and Samantha Walton.  Additional material will follow early in the new year from Tom Raworth and J. H. Prynne – watch this (listen to this) space.
2/10/12 Poet-in-Residence: the Archive is seeking a virtual 'poet in residence' to contribute responses and creative works to the Archive and lead three workshops for students.  The residency will last one year and is valued at £3600.  Applications are due on 1 December.  Further details are available on what's new and on the Queen Mary website.
27/9/12  For the next eight weeks, the Archive is Now on Penn Sound radio - listen here.
2/8/12  The Archive has begun to host video – check out these collaborations by Marc Atkins and Rod Mengham.
11/7/12  Read about the Archive in an editorial by the Director at the Poetry School.
FEATURED AUTHORS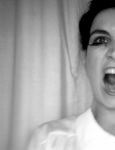 Samantha Walton
Samantha Walton was born within earshot of the M25 in the 1980s. She has lived in Edinburgh and London, studied ...