Archive of the Now
the source for British innovative poetry
The Archive of the Now is a digital collection of over 100 poets performing their own work. Based at Queen Mary University of London, it hosts many specially commissioned recordings unavailable anywhere else, all of which can be downloaded free of charge.
FEATURED AUTHOR
Ken Edwards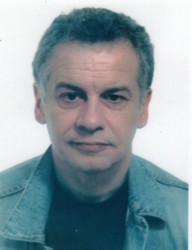 Ken Edwards' books include Good Science, eight + six, Bird Migration in the 21st Century, No Public Language: Selected Poems 1975-95, the novel Futures and the prose work Nostalgia for Unknown Cities. He has been editor/publisher of Reality Street Editions since 1993. He is active in music as well as writing: his text for a piece by John Tilbury for piano, voice and sampled sounds, There's something in there..., received its premiere at Leeds Town Hall in July 2003, and his music for Fanny Howe's Spiral was first performed in Brighton and London in February 2004. He lives in Hastings, East Sussex, and works as an editor for the Royal College of Nursing in London. ken@realitystreet.co.uk www.realitystreet.co.uk

Read more about Ken Edwards »
NEWS
1 May 2013: Sophie Mayer has been appointed poet in residence in the Archive of the Now for one year.
Sophie will provide twelve monthly responses to the Archive, lead projects to develop access to the site, and host four workshops at QMUL for key stage 3 and 4 students to explore the poetic uses of digital technology. These workshops will draw on their experience of media, migration, multilingualism, and how they affect their bodies and emotions.
"I'll be looking at the Archive of the Now in relation to its potential as an archive — what it's preserving and how, and what kind of research that makes possible — and as an unusual archive conceived as a snapshot of the "now," to consider what the poetry recorded by the Archive says about how we live now," she says. "As well as digital technologies, I'll be thinking about other inventive forms of communication in the Archive: poets' use of jargons, slangs and multiple languages reflecting changing conversations. Experimenting in ways of speaking and recording our experimental lives at a time of rapid social and material change, the poems that make up the ever-expanding Archive offer immediate and provocative ways of thinking about questions that concern us all."